Vernissage & Tour: Khadija Baker – Behind Walls/Maps
2017-11-02 @ 5:30 pm

-

7:30 pm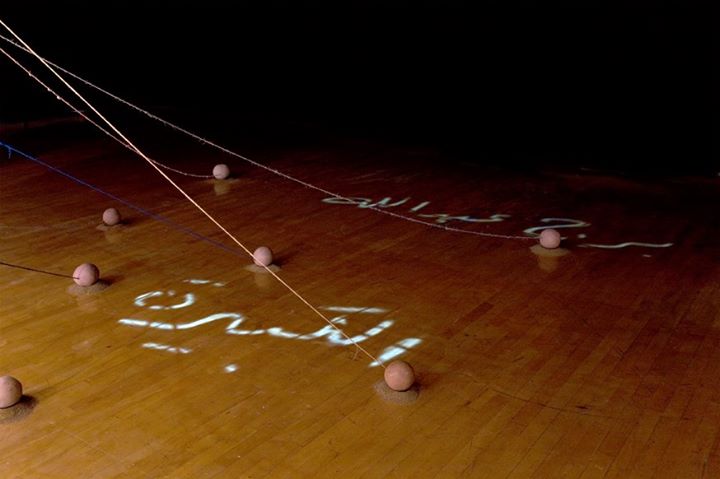 KHADIJA BAKER
Behind Walls/Maps
November 2 to December 3, 2017
VERNISSAGE & TOUR WITH THE ARTIST
Thursday, November 2, 5:30 to 7:30 p.m.
Tour begins at 6:00 p.m.
All welcome. Free admission.
In her multimedia installation Behind Walls/Maps, […] Khadija Baker addresses herself to the experience of the Kurds in Syria. In 1962, many Kurds found themselves deprived of nationality following an exceptional census, along with various rights and privileges: easy access to schools, travel, home ownership, government jobs, and more. Other measures have included bans on the Kurdish language, and the replacement of Kurdish city and village names with new, Arabic designations.
In Behind Walls/Maps, Baker […] present[s] an image of cultural erasure through geographical markers and a careful selection of media. Arranged across the installation floor are eighty weighted clay spheres, each inscribed with the name of a renamed Kurdish city. Attached to the spheres are fabric strings woven from used garments, which form a criss-crossing network suspended from the ceiling. At the same time, video projections of the renamed cities' and villages' new, Arabic names fade in and out on the floor. -Excerpt from the essay by Edwin Janzen
KHADIJA BAKER's work explores social and political themes related to persecution, displacement, and memory. Her current research combines performance, fibres, sound and video to create intimate, site-specific installation environments, breaching the divide between artist, art and public, and creating active spaces of exchange and storytelling. She has shown her work nationally and internationally, and has received numerous grants. Since 2013, Baker has been a core member of the Centre for Oral History and Digital Storytelling, and is a visiting researcher at Concordia University's SenseLab. Born in Amoude, Syria, Baker has lived and worked in Montreal since 2001. She holds an MFA from Concordia University (2012). http://www.khadijabaker.info/index.html
KARSH-MASSON GALLERY
Ottawa City Hall, 110 Laurier Avenue West
613-580-2424 (14167) TTY 613-580-2401
http://ottawa.ca/en/residents/arts-heritage-and-culture/galleries-and-exhibition-spaces/karsh-masson-gallery#
https://www.facebook.com/karshmasson/
Open daily 9 am to 8 pm, including holidays.
Free admission. Wheelchair accessible.
-//-
KHADIJA BAKER
Behind Walls/Maps (Derrière les Murs/Cartes)
Du 2 novembre au 3 décembre 2017
VERNISSAGE ET PARCOURS AVEC L'ARTISTE (EN ANGLAIS)
Le jeudi 2 novembre de 17 h 30 à 19 h 30
Début du parcours à 18 h
Ouverte à tous. Entrée libre.
Dans son installation multimédia intitulée Behind Walls/Maps (Derrière les murs/cartes), […] Khadija Baker met en scène l'expérience des Kurdes en Syrie. En 1962, de nombreux Kurdes ont perdu leur nationalité par suite d'un recensement exceptionnel, ainsi que divers droits et privilèges comme le droit d'étudier, de voyager, d'accéder à la propriété et de travailler au gouvernement, pour n'en nommer que quelques-uns. On a aussi interdit aux Kurdes d'utiliser leur langue, et des noms de villes et de villages kurdes ont été rebaptisés en arabe.
Dans Behind Walls/Maps, l'artiste […] illustre la censure culturelle au moyen de repères géographiques et d'une sélection rigoureuse de médias. Au sol sont disposées quatre-vingts sphères de glaise alourdies, sur lesquelles on peut lire des noms de villes kurdes ayant été renommées. Des ficelles tissées avec des vêtements usagés sont rattachées aux sphères et s'entrecroisent jusqu'au plafond, où elles sont suspendues. Simultanément, les noms arabes des villes et villages kurdes sont projetés en fondu sur le sol. – Extrait du texte par Edwin Janzen
Dans son travail, KHADIJA BAKER explore des thèmes sociaux et politiques liés à la persécution, au déplacement et à la mémoire. Ses démarches actuelles combinent performances, textiles, sons et vidéos en vue de créer des environnements intimes et originaux qui rapprochent l'artiste, l'art et le public dans des lieux actifs mêlant échanges et récits. Elle a exposé ses oeuvres au pays et à l'étranger, et elle a reçu de nombreuses subventions. Depuis 2013, l'artiste est membre reconnue du Centre d'histoire orale et de récits numérisés et chercheuse invitée au SenseLab de l'Université Concordia. Née à Amoude, en Syrie, Khadija Baker vit et travaille à Montréal depuis 2001. Elle est titulaire d'une maîtrise en arts visuels de l'Université Concordia (2012). http://www.khadijabaker.info/index.html
GALERIE KARSH-MASSON
Hôtel de ville d'Ottawa, 110, avenue Laurier Ouest
613-580-2424 (14167) ATS 613-580-2401
http://ottawa.ca/fr/residents/arts-culture-et-patrimoine/galeries-et-espaces-dexposition/galerie-karsh-masson
https://www.facebook.com/KarshMasson/
Ouverte tous les jours de 9 h à 20 h, y compris les jours fériés.
Entrée libre. Accessible en fauteuil roulant.