Vernissage: Ben Globerman – Call to Prayer
2018-02-08 @ 5:30 pm

-

7:30 pm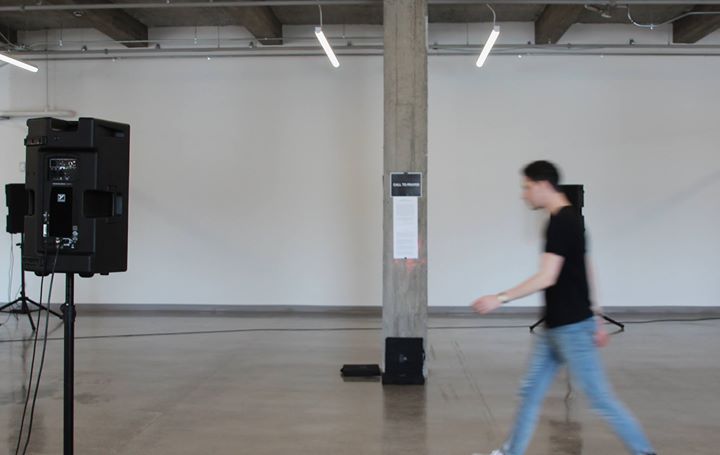 BEN GLOBERMAN
Call to Prayer
January 17 to March 14, 2018
VERNISSAGE
Thursday, February 8, 5:30 to 7:30 pm
Joint opening with Karsh-Masson Gallery's exhibition Andrew Ooi – Anatomy of Resilience.
Musical performance and Q&A: Sunday, February 18, 2:00 to 2:45 p.m.
All welcome. Free admission.
"All roads lead to the one House
from one seed a thousand ears of corn emerge."
-Rumi
For the 13th-century Persian mystic and poet Rumi, the many can be found in the one; different paths lead to the same destination. The purpose of Call to Prayer is to explore those different paths and bring them together through their music. Call to Prayer is an immersive, sonic installation drawing on the musical traditions of Judaism, Christianity and Islam. Beginning as separate threads, the voices of three Ottawa vocalists (in order of appearance: Daniel Benlolo, Terri-Lynn Mitchell and Mona Bahumaid) gradually become entwined, ultimately forming a tonal fabric that finds harmony in difference. -Catalogue Excerpt
BEN GLOBERMAN is a musician, sound designer, and multimedia artist based in Ottawa, Ontario. He holds an MA in European Studies (Carleton University) with a specialization in migration, and a BA in Religious Studies (Carleton University), and is a graduate from the Red Bull Music Academy (New York, USA). He is particularly interested in translating conceptual ideas to sound.
Ben has composed works for film, theatre, and installation, and has created projects in diverse fields such as healthcare, fashion and public services. Under his Cabaal moniker, he has performed throughout North America, and released four LPs. His installations have explored themes of religious pluralism, bleeding-edge technology, and the therapeutic qualities of sound. www.bengloberman.ca
Ben Globerman gratefully acknowledges the financial support of the City of Ottawa and the Ontario Arts Council.
CITY HALL ART GALLERY
Ottawa City Hall, 110 Laurier Avenue West
613-580-2424 (28425) TTY 613-580-2401
https://ottawa.ca/chag
https://www.facebook.com/ottchag
Open daily 9 am to 8 pm, including holidays.
Free admission. Wheelchair accessible.
-//-
BEN GLOBERMAN
Call to Prayer (Appel à la prière)
Du 17 janvier au 14 mars 2018
VERNISSAGE
Le jeudi 8 février, de 17 h 30 à 19 h 30
Ouverture commune avec l'exposition Andrew Ooi – Anatomy of Resilience (Anatomie de la résilience) à la Galerie Karsh-Masson.
Présentation musicale et période de questions (en anglais) : le dimanche 18 février, de 14 h à 14 h 45
Ouverte à tous. Entrée libre.
« Tous les chemins mènent à une maison unique
d'une seule graine jaillissent mille épis de maïs. »
-Rûmî
Selon le mystique et poète persan du 13e siècle Rûmî, c'est par l'unité qu'on accède à la pluralité : différents chemins mènent à la même destination. L'objectif de Call to Prayer (Appel à la prière) est d'explorer ces différents chemins et d'en montrer l'unité par la musique. Call to Prayer est une installation sonore immersive qui puise dans les traditions musicales juive, chrétienne et musulmane. Les voix de trois vocalistes locaux (en ordre d'apparence : Daniel Benlolo, Terri-Lynn Mitchell et Mona Bahumaid), qui se font d'abord entendre distinctement, s'emmêlent graduellement, formant un tissu tonal qui tire son harmonie de ses différences.
– Extrait du catalogue
BEN GLOBERMAN est un musicien, concepteur sonore et artiste multimédia établi à Ottawa, en Ontario. Il a obtenu à l'Université Carleton un baccalauréat en études religieuses et une maîtrise ès arts en études européennes, dans le cadre de laquelle il s'est spécialisé dans la question de la migration. Il est également diplômé de la Red Bull Music Academy de New York. Il s'intéresse particulièrement à la traduction sonore d'idées conceptuelles.
Ben Globerman a composé de la musique pour des films, des pièces de théâtre et des installations artistiques. Il a réalisé des projets dans différents contextes, comme la santé, la mode et les services publics. Sous le pseudonyme Cabaal, il s'est produit partout en Amérique du Nord et a fait paraître quatre albums. Ses installations explorent les thèmes du pluralisme religieux, les technologies ultra-émergentes et les vertus thérapeutiques du son. www.bengloberman.ca
Ben Globerman remercie la Ville d'Ottawa et le Conseil des arts de l'Ontario de leur soutien financier.
GALERIE D'ART DE L'HÔTEL DE VILLE
Hôtel de ville d'Ottawa, 110, avenue Laurier Ouest
613-580-2424 (28425) ATS 613-580-2401
https://ottawa.ca/gahv
https://www.facebook.com/OttChag
Ouverte tous les jours de 9 h à 20 h, y compris les jours fériés.
Entrée libre. Accessible en fauteuil roulant.