Triple Seven Takeover / Triple Seven Launch Party!
2017-10-20 @ 9:00 pm

-

2017-10-21 @ 2:00 am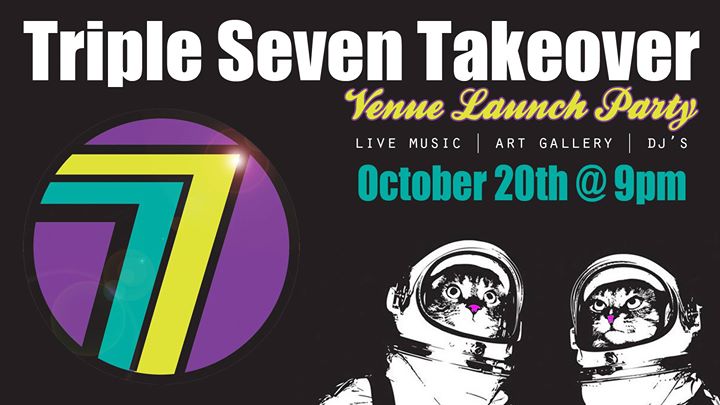 Vous avez entendu des rumeurs du Temporaire? et l'OUI; les rumeurs sont vraies! Notre chére Temporaire dans le centre-ville aimé de Hull subit une transformation et est sur le point d'émerger encore plus glorieux qu'auparavant.
Nous l'appelons "Le Triple Sept Takeover"
Cela a été un temps long et n'est rien moins qu'une GRANDE SORPRISE! Pour ceux d'entre vous qui nous connaissent, sachez que la vision d'avoir un coffre-fort, tout espace créatif englobant pour servir et inspirer la communauté a été notre rêve depuis toujours. Nous n'avons jamais connu le jour ou l'heure où ce rêve deviendrait une réalité, mais le jour où nous avons rencontré Aymara, nous avons eu l'impression que cela se produirait bientôt!
Nous sommes tellement heureux de collaborer avec un artiste incroyable, un artiste talentueux et talentueux, pour aider à faire passer la communauté de Hull / Ottawa au prochain niveau!
Venez nous rejoindre pour célébrer le début de quelque chose de nouveau, c'est juste le début!
\ ||| /// \ ||| /// \ ||| /// \ ||| /// \ ||| /// \ ||| ///
You may have herd it though the grapevine and YES; the rumors are true! The infamous Tempoaire in beloved downtown Hull is undergoing a transformation and is about to emerge even more glorious than before.
We are calling it "The Triple Seven Takeover"
This has been a LONG time comming and is nothing short of a BIG DEAL! For those of you who know us, know that the vision to have a safe, all encompassing creative space to serve and inspire the community has been a dream of ours since forever. We never knew the day or the hour when this dream would become a reaity, but the day we met Aymara we had a feeling it would happen soon!
We are so VERY excited to be working along side such an amazing friend, likeminded & talented artist, to assist in taking the Hull / Ottawa community to the next level!
Come join us in celebrating the start of something new, this is just the begining!
>>> LIVE PERFORMANCES <<< /// Aymara Alvarado Lang ||| Anonymous Underground > https://soundcloud.com/triple-seven-presents/sets/anonymous-underground
/// Jennifer Olivia Love > live art
<<< VISUAL ART INSTALLATIONS >>>
/// Spirtually Minded
||| Aymara Alvarado Lang
\ Jewely Gee Vegys
/// Jennifer Olivia Love
>>> BEATS PROVIDED BY <<< /// Spiritually Minded ||| Jas Nasty \ Glory Hull /// JFUN >>> Cash Bar >>> Fancy Drinks >>>
Special Food >>> Art for Sale
>>> The Festival Flea >>> and MORE!
Just a $10 bill to get in (or PWYC)
All proceeds go towards the space!
We look forward to celebrating with you!
Much LOVE and many THANKS
Adam + Jewels + Aymara
Triple Seven