Through the Female Eye
2018-03-08 @ 5:00 pm

-

9:00 pm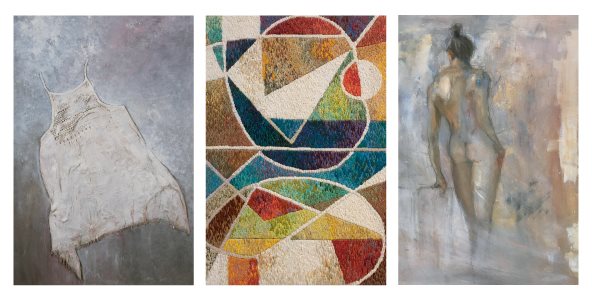 As the spring approaches and we celebrate the 8th of March known as the "International Women's Day", we present a Vernissgae to open an exhibition of three female artists: Daria Podemska, Diane Fine and Dominique Chauvaux. All excellent and different in their art form , the artist capture inspiring them ideas through their female perception. Allow me to present:
1.DARIA PODEMSKA expresses a captivating ability to distance herself from the reality, and to illuminate her positive emotions in art. She explores through her feminine outlook the depth and the sensitivity of women in today's reality. She captures the light in a warming luster to express the comforting feeling through the gentle sheen of the soft glow, which is reflecting on the surface of her paintings.
Daria demonstrates an extended and complex knowledge of colour and layering by the application of the textures and hues in her work. She builds depth and perspective in her minimal approach by applying skillfully mixed media resulting in a rich, yet a light finish.
Her paintings invite us to observe and reflect on the emotions in a calm and soothing way. By presenting the abstract object of her paintings in a positive, uplifting expression; her art creates balance and invites us to optimistic emotions.
2.DIANE FINE Diane follows intuition, improvisation and imagination while arranging space into her own personal aesthetics. She has always been attracted to the precision of geometry. Her fascination of it's intriguing simplicity and complexity at the same time, leads Diane to explore the freehand exclusively while alternating the juxtaposed of the organic with the rigid, mechanical lines of the straight edge to create harmony of the opposites.
Her use of colour adds an exuberance and energy, which demonstrates her zest for life. The lines only define and simplify her passionate, vigorous, colorful work, while the shapes create a composition of checks and balance. The works are highly alive and freshly contemporary, although rooting the influence of known artist like Malevic.
The seven works are from a series of mixed media abstracts, which are an extension of her lifelong exploration of colour, line and shape.
The textile pieces is a fresh new approach to the age old practice of needlepoint. In this piece, along with the typical tapestry wool, Diane has incorporated many other types of yarn and materials such as torn fabric, ribbon, twine, hemp and raffia grass string to add texture, depth and diversity.
She is attracted to this medium because of its inherent capacity for playing with colour, and the resulting warmth and softness, which it radiates.
In 'Lifelines' the curved, interwoven lines create volumes. These lines are natural and loose, yet they tightly delineate the shapes. She used a painterly stitch to create an impressionist feel where the eye mixes the palette. It is called 'Lifelines' because it represents the circuitous route of 'ups and downs' our lifes take.
The process of needlepoint can indeed be painstaking, involving countless hours of work, yet very therapeutic and rewarding.
3.DOMINIQUE CHAUVAUX creates in response to the overwhelming need of expressing towards the questions, concerns and wonders aroused by the mystery of life. Her interest roots in transitional periods, trauma, recovery, loss and rebirth. Through her art, she strives to go beyond one's appearance, and deeper into the emanating energy that connects and animates us all. She translates the dignity of the person regardless of age or physical traits by abstract lines filled with a saddle mixed media expression. Painting and drawing the people for her, invites us to observation, and serves us as a way to understand others, realigns ourselves, and leads us ultimately to a self discovery in today's rather chaotic, fast paced life.
FREE Event: Vernissage , wine and cheese served