Submission to the Holiday Art Sale
2017-11-17 @ 10:00 am

-

2017-11-18 @ 3:00 pm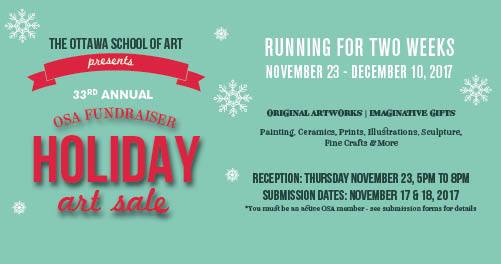 OSA | EAO presents
Holiday Fundraising Art Sale
The Ottawa School of Art – Downtown Campus Gallery is pleased to present its 33rd Annual Holiday Fundraising Art Sale. The exhibition features a wide range of original, unique and affordable works of art created by the members, instructors and alumni of the School in a wide variety of media, sizes and prices. The funds raised from this sale go toward the Ottawa School of Art's bursary programs to provide free art classes and materials.
Members from both campuses are invited to participate in this exciting two week event! Not a member? Becoming a member is easy! For more information on our new membership levels or becoming a member please visit our website: artottawa.ca/membership
Submission Criteria:
The OSA Holiday Art Sale is open to all active members in good standing with the Ottawa School of Art.
Submission Fees and Requirements:
• All participants are required to pay a $10.00 non-refundable submission fee, (cash only), paid upon submission.
• All participants are required to commit a minimum of three hours, volunteer time for gallery sitting. Participants are also strongly encouraged to sign up to help with the installation of the artworks on Tuesday November 21, from 9:00 am to 3:00 pm. Two or three people would also be needed to help with the takedown on December 10 from 9:00 am to noon.
• The gallery Sitter provides security for the artworks and offers help with purchases.
•
For a full list of submission criteria please download the forms below or visit our website:
artottawa.ca/holiday-art-sale-submission-opportunity
Submission Dates:
ByWard Market Campus: Friday November 17 and Saturday November 18, 2017 between the hours of 10:00am and 3:00pm.
This year, the OSA will host a Holiday Fundraising Art Sale at the ByWard Campus only.
The Ottawa School of Art offers Diploma and Certificate Programs, and a full range of community level art courses including drawing, painting, photography, new media, ceramics, sculpture, printmaking, and a wide variety of specialized short courses and workshops. Children's and Teens' classes range from multi-media to animation and cartooning, to sculpture and construction, pottery, drawing and painting.
Ottawa School of Art
35, rue George Street
ByWard Market
Ottawa, ON K1N 8W5
info@artottawa.ca
OSA | ÉAO présente
33e Vente d'art de bienfaisance des fêtes
L'École d'art d'Ottawa – campus du marché By est fière de présenter la 33e édition de l'exposition et vente d'art des fêtes. Cette exposition, qui fait aussi figure de collecte de fonds, met en valeur une grande variété d'œuvres d'art originales, uniques et abordables, créées par les étudiants, les professeurs et les anciens de l'École. Il y en aura pour tous les goûts, avec des œuvres de diverses dimensions, présentant plusieurs techniques et offertes dans une vaste gamme de prix. Les profits de cette vente nous permettront de maintenir le très haut niveau de qualité d'enseignement de l'École, et soutiendront les programmes de bourses de l'École d'art d'Ottawa permettant d'offrir gratuitement des cours et matériaux d'art.
Les membres des deux campus sont invités à participer à cet événement excitant de deux semaines! Vous n'êtes pas membre? Aucun problème, vous pouvez le devenir facilement! Pour plus d'information sur nos nouveaux niveaux d'adhésion ou pour devenir membre de l'ÉAO, visitez notre site Web :
artottawa.ca/fr/adhesion
Critères de présentation :
La vente d'art de bienfaisance des fêtes est ouverte à tous les membres actifs et en règle de l'École d'art d'Ottawa. Cette année, l'ÉAO présentera une vente de bienfaisance des fêtes au campus du marché By uniquement.
Frais de soumission et exigences d'exposition :
• Les frais de soumission sont de 10 $ non remboursables à payer (argent comptant seulement) lors de la soumission.
• Tous les participants doivent offrir un minimum de trois heures de leur temps pour des séances en galerie. Les participants sont également encouragés à s'inscrire pour aider à l'installation d'œuvres d'art le mardi 21 novembre de 9 h à 15 h. Nous avons aussi besoin de deux ou trois personnes pour aider au démontage le 10 décembre de 9 h à 12 h.
• Le rôle de l'artiste pendant cette séance est d'assurer la sécurité des œuvres dans la galerie, de répondre le mieux possible aux questions, et d'aider les acheteurs potentiels. Veuillez consulter le feuillet de renseignements sur les séances en galerie qui vous sera remis en galerie.
Pour une liste complète des critères de soumission, veuillez télécharger les formulaires ci-dessous ou visitez notre site Web :
artottawa.ca/fr/vente-dart-de-bienfaisance-des-fetes-2
Dates de présentation des œuvres :
Campus du marché By : vendredi 17 novembre et samedi 18 novembre 2017, entre 10 h et 15 h.
Cette année, l'ÉAO organisera la Vente d'art de bienfaisance des fêtes au Campus du marché By seulement.
L'ÉAO offre des programmes de diplôme en beaux-arts et de certificat de portfolio de l'ÉAO, de même qu'une grande variété de cours d'art d'intérêt général incluant le dessin, la peinture, la photographie, les nouveaux médias, la céramique, la sculpture, la gravure et de nombreux ateliers et cours de courte durée. Les cours pour enfants et adolescents offrent une initiation à une diversité de techniques notamment l'utilisation de matériaux mixtes, l'animation, le dessin animé, la sculpture, la poterie, le dessin et la peinture.
École d'art d'Ottawa
35, rue George Street
ByWard Market
Ottawa, ON K1N 8W5
info@artottawa.ca