SNOW DAY SHOP
2019-12-07 @ 1:00 pm

-

5:00 pm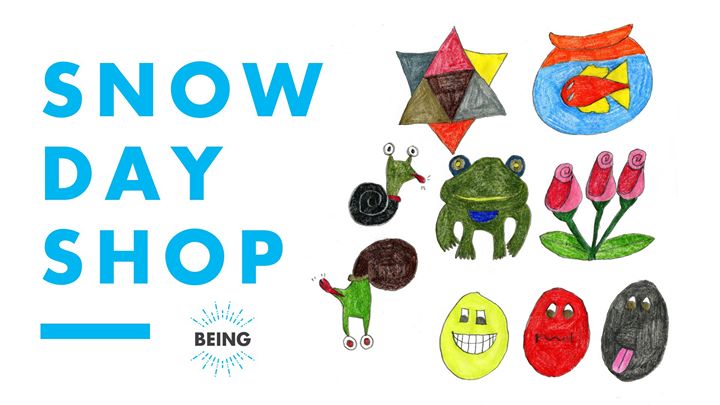 Saturday, December 7, from 1 PM to 5 PM
Bronson Centre, Room 304 ❄️
Art sale at BEING Studio! Stop by for chill vibes and hot cocoa, and do some holiday shopping. Artworks and items created or designed by the artists at BEING:
🌨️ Paintings on canvas
🌨️ Prints
🌨️ Sweatshirts
🌨️ T-shirts
🌨️ Tote bags
🌨️ Works on paper
🌨️ Zines
🌨️And more!
SNOW DAY SHOP has everything you need to make your holiday as daring and delicate as a snowstorm, as electric and dazzling as an ice apple. Cheerful as eating sugar plums in a big snow fort, SNOW DAY SHOP welcomes you to a dazzling contemporary cinnamon experience. Weird frosty ice storms are only the beginning. Shiver with us in impeccable, astonishing and brilliant delight. Give better. Shop BEING! 🎁
Proceeds from artwork sales benefit the artist directly in a 50/50 commission split with BEING Studio's operating fund. Some artists will also be selling their work independently of the Studio.
Access Notes: BEING Studio is located on the 3rd floor of the Bronson Centre. Para Transpo drop-off at 211 Bronson Avenue. The main entrance to the Bronson Centre is accessible by wheelchair. There is an elevator to the 3rd floor. There is an accessible washroom on the main floor.
.
.
.
.
.
.
.
.
.
.
.
.
(**Poetic collaboration and brainstorming for this invitation brought to you by Julie Fletcher, Rachel Gray, Jessie Hugget, MikeH, Andre Lanthier, Stephanie Nadeau and Jake Riseborough.) 👀
Charitable Registration # 834484073 RR0001