Pens & Pixels Art Lessons 2
2018-02-17 @ 12:00 pm

-

5:00 pm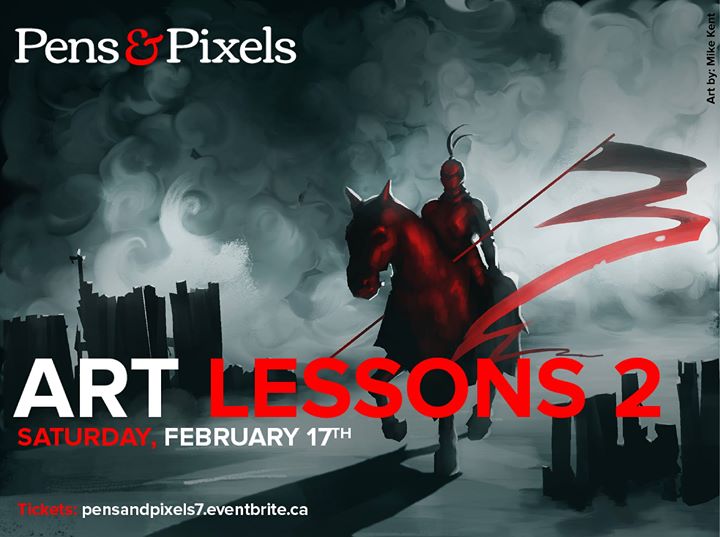 The next Pens & Pixels event is live! By popular demand Pens & Pixels will be running another set of art classes. We have gathered together teachers from Ottawa's own SnowedIn Studios to be our insutrctors for the day.
We have three different instructors each teachings different subject matters relating to game art. The event will be hosted at the new Ottawa Game Hub, an exciting new orgnaistion and location designed to connect and grow the game industry in our home town. Pens & Pixels is thrilled to work with the Hub and bringing thier event to thier awesom location.
So join in and get THREE lessons from some of the best artists Ottawa has to offer, and best of all its free!
We have Tara Phillips (Art Director, SnowedIn Studios), Carmen Durand (Artist, SnowedIn Studios) and Ian Anderson (Artist, SnwoedIn Studios) each techniques in teaching digital painting, Illustration, Photshop and Game art. So bring your sketchbooks, your tablets and your pencils and Head on out to the Capital Game hub!
* You will need a ticket for entry. Your ticket is free, but is a reservation for your seat. There are only 50 seats available so reserve ahead of time if you know you can attend.
Get your ticket here: https://pensandpixels7.eventbrite.ca
* What to bring? You can bring a tablet or a laptop, but you can always bring a sketch book and take notes and sketch along! There will be power outlets and tables provided.
Tickets are free but seats are limited to 50 for the event: https://pensandpixels7.eventbrite.ca
Details
http://www.pensandpixels.ca/events/2018/1/22/art-lessons-2
*Artist Mike Kent and photo reference Randy Terpstra