OSA Open House
2017-09-09 @ 12:00 pm

-

4:00 pm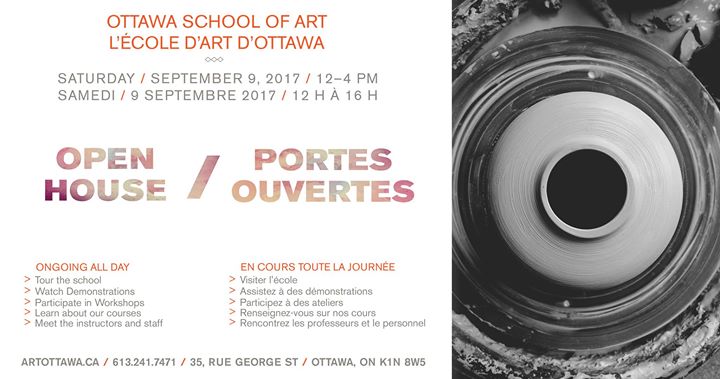 Ottawa School of Art Open House
Have you ever wondered how ceramics are made? Or what linocuts are? Or have you always wanted to try a new medium? Your opportunity is here!
THE OTTAWA SCHOOL OF ART WILL BE OPENING ITS DOORS TO THE PUBLIC ON SEPTEMBER 9TH FROM 12PM TO 4PM FOR OUR ANNUAL OPEN HOUSE!
Come join us for FREE!
There will be information, live demos and workshops in a variety of artistic fields, showcasing some of what you could expect from a class here at the OSA.
The event will include short demos/workshops:
• Printmaking with Jeff Stellick
• Ceramics with Megan Pethick
• Children's programming with Gerard Bélec & Deidre Hierlihy
• Sculpture with Nadine Argo
• Drawing & Painting with Yulia Lisitsyna
• Fine Arts Diploma with Andrew Fay
Come participate! Come check out our specialty studios, chat with Advisor Andrew Fay about our Fine Arts Diploma program, bring your kids, leave with a piece of art that you created!
It's going to be a fun filled day of "Teaching Art to Everyone!" something we do every day!