Opening Reception: SOMATIC SATIATION / Kosisochukwu Nnebe
2017-09-14 @ 6:00 pm

-

9:00 pm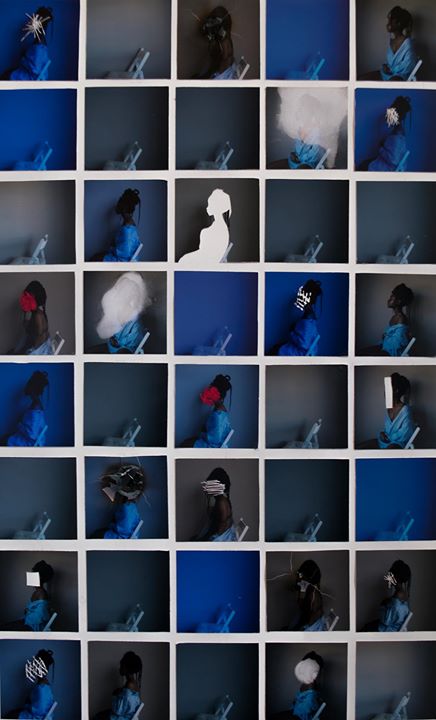 Please join us at Studio Sixty Six on Thursday, September 14th from 6-9pm for the opening of Somatic Satiation, a solo exhibition of new work by mixed media artist Kosisochukwu Nnebe.
Bar & Food
Wheelchair accessible
All are welcome
The mixed media work of Kosisochukwu Nnebe embraces the concept of using repetition to temporarily lose meaning as found in the experience of semantic satiation, introducing what the artist refers to as "somatic satiation." By including repeated images of black womanhood, the artist provides an opportunity for the viewer to lose previous definitions and potentially find a new understanding.
Semantic satiation is described as a psychological phenomenon whereby constant repeating of a word or phrase causes a temporary loss of meaning. Somatic, or "bodily," satiation suggests a repetition of the body. Nnebe applies this to her work through continual inclusion of the black female body. The photo-based work is divided into both individual works and series. Hyper/in/visibility consists of a grid of similar repeated images of a chair, at times including the artist, often with their face obscured. The two works of Revelations feature vertical panelling designed so that the image of the black woman is only truly visible when looking at it from the periphery – looking straight at the image causes the flat back mirrored panels to reflect an image of the viewer. In Guess My Race? Nnebe has compiled eighteen images of cropped bodies of both white and black models, altered to make it difficult for the viewer to estimate their race, confronting the methods one may use to identify a black body. In these works the black female body is both there and not there, seen and unseen, depending on the choice of the viewer. Nnebe's other works, 70 degrees, Disruption, "All the women were white, all the blacks are men, but some of us are brave", The Uses of the Erotic and Rebirth all explore various facets of how the artist feels that she, as a black woman, moves through the world. "Satiate' has numerous meanings – both positive and negative, meaning to be satisfied or full, but also to gorge or sicken. Nnebe's works are fully formed and visually striking, but they are also confrontational; enjoyable with the potential to cause discomfort. The artist aims to have the viewer leave questioning their conscious or unconscious biases and assumptions: "This moment of questioning creates an interval – an interruption, or rather an opening – that allows for a new understanding of black womanhood; one that is intimate and expansive; intrinsic and radical."
Text by Rose Ekins, Curator
The artworks will be available for previews and preorder soon.
BIOGRAPHY
Kosisochukwu Nnebe is a Nigerian-Canadian visual artist. Her work aims to combine critical theory and visual arts practice, and explores the role of art as an interactive and disruptive force. Her work has been exhibited at the Montreal Museum of Fine Arts, Places des Arts and Station 16 in Montreal, and the Mohr Gallery in Mountain View, California. She is currently based in Ottawa.