Odawa's 23rd Aboriginal Art Auction
2019-11-16 @ 5:00 pm

-

9:00 pm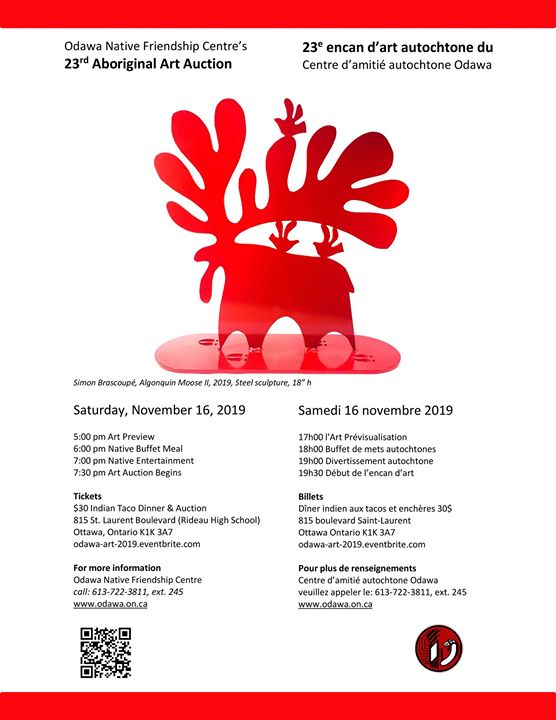 //Le texte est en français en bas//
Odawa's annual art auction fundraiser will be held on November 16th, 2019. There will be various art pieces for live & silent auction such as paintings, carvings, Indigenous crafts & jewellery.
All fundraising efforts go towards programming at Odawa to better serve the community. Tickets are $30 each which will get you entry into the art auction along with an Indian Taco dinner. There will also be Native entertainment just after dinner and before the live auction starts.
Book tickets: odawa-art-2019.eventbrite.com
Date: Saturday November 16th, 2019
Time: 5:00 pm – 9:00 pm
Address: Odawa Friendship Centre
815 St. Laurent Boulevard (Rideau High School)
Ottawa, Ontario
For more information: call 613-722-3811, ext. 245
www.odawa.on.ca
//
La vente aux enchère annuelle d'Odawa pour la collecte de fonds aura lieu le samedi 16 novembre 2019. Il y aura plusieurs œuvres d'art pour l'encan et la vente silencieuse, telles que des peintures, des sculptures, des objets d'artisanat et des bijoux.
Tous les fonds ramassés vont aux programmes d'Odawa afin de mieux servir la communauté. Les billets coûtent 30$ chacun. Ils vous permettent de participer à la vente aux enchères et de recevoir un dîner de tacos indiens. Il y aura également des spectacles autochtones juste après le dîner et avant le début de l'encan.
Réserver des billets: odawa-art-2019.eventbrite.com
Date: samedi 16 novembre 2019
Heure: 17h00 – 21h00
Adresse: Odawa Native Friendship Centre
815, boulevard Saint-Laurent (École secondaire Rideau)
Ottawa, Ontario
Pour plus d'information: appelez le 613-722-3811, ext. 245
www.odawa.on.ca