KING of FUN- A Halloween Opening
2017-10-28 @ 6:00 pm

-

10:00 pm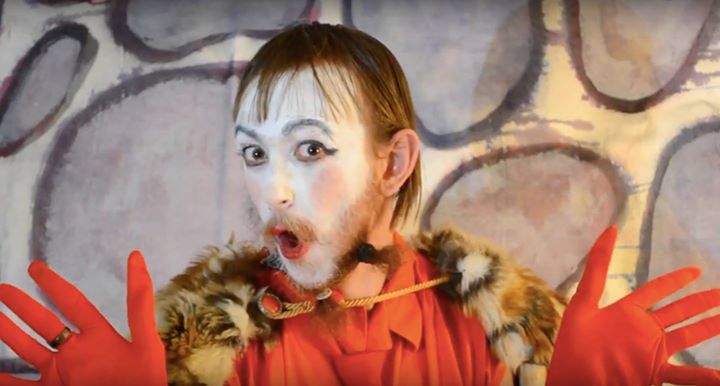 • A PDA Projects Pop-Up •
KING OF FUN – A Halloween Party Art Opening
Featuring Benjamin Woodard + Rupert Nuttle
@ General Assembly
Not To Be Missed! A Fully emersive interactive art installation with live Music, beverages, puppets, candy and much more.
Wear your best costumes. Be a part of the BIG REVEAL!
•ABOUT THE KING OF FUN•
In the folds of our reality there exists a world divided into opposing realms: the Land of Boredom and the Kingdom of Fun.
From the mountains in the north, the Great River flows into the southern sea. Along its banks, a lush rainforest has flourished, home to an unimaginable variety of flora and fauna. Rainforest dwellers lead happy, care-free lives. They spend their days among the buttressed roots of kapok trees, eating fruits under a sun-drenched canopy of exotic orchids. Irv the Bird, who is fair and kind and loved by all, rules over the rainforest.
To the west of the rainforest is an arid desert known as the Land of Boredom. Most of Boredom is uninhabited. Everyone has just gotten bored and left, even the plants. From within her stronghold, the Queen of Boredom holds court. But with nothing going on and nothing to do, her subjects idle away their days. They barely speak and hardly ever smile. Never was there a more boring place.
To the east, across the Great River, lies the hilly countryside of the Kingdom of Fun. Here, unlike the Land of Boredom, there is never a dull moment. The creatures of Fun live in a state of silliness, and the silliest of them all is the King of Fun.
But how much fun can the King have before he loses control?
•ABOUT THE ARTISTS•
Benjamin Woodyard:
Benjamin Woodyard is an interdisciplinary artist working predominantly in ceramics. In 2014 he received his BFA at NSCAD University and returned home to Ottawa. Since then he was the curator at Pressed for a year, and has been involved with various local arts organisations including Possible Worlds, the Art House Cafe, The House of Common, and PDA Projects. This will be Woodyard's last show in Ottawa before he moves south to California.
Rupert Nuttle:
Rupert Nuttle is an artist and writer living in Toronto. He received a Masters in Journalism from Carleton University in 2017 and a BFA from NSCAD University in 2013. He writes regularly for Canadian Art, and his paintings have been shown widely. For his MJ thesis he wrote about climate change deniers trolling government websites.
•ABOUT PDA PROJECTS•
Contemporary Art Gallery
Contact: Brendan A. de Montigny
www.pdaprojects.com
info@pdaprojects.com
613-979-8159
•ABOUT GENERAL ASSEMBLY•
5 Fairmont Av. Ottawa, Ontario
Accessible, inclusive, safe space. All welcome.