Everyone is Someone
2017-11-17 @ 6:00 pm

-

9:00 pm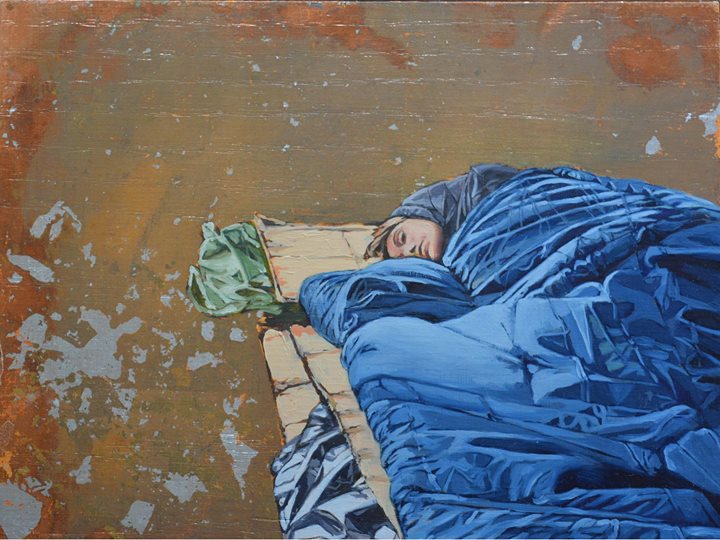 Patrick Gordon Framing presents a painting exhibition by Diane Hiscox
This show is in conjunction with Patrick Gordon Framing's 15th year in business!
Show to remain up until the end of 2017
This exhibition consists of more than 60 small-format paintings, depicting figures which are immediately identifiable as people (and sometimes their dogs) who live on sidewalks. Although circumstances determine that these people are often subject to the public gaze, there is reference made – in the suggestion of wallpaper, and in the figures' assemblage of belongings – to the notion of "home." Most of the figures, if you can see their faces, are asleep, or are looking away, choosing where to engage their gaze, maintaining the privacy we expect in our homes. Some of the figures are dogs, who may represent intimate companionship and/or protection for their human companions. The paintings are crafted with great intimacy, with the intent to draw the viewer in, to engage with the works in an intimate way, with materials – oil paint and precious-metal leaf – that are historically reserved for prestigious or sacred subject matter.
"Everyone is Someone" reminds us that each of us are precious, whether we live in a sleeping bag, a box, or a mansion. Any one of us might be one or two bad choices or calamities from being homeless. It is also a reminder that the most holy people often chose to live in dire poverty. Finally it is a critique of a society that tolerates a dire inequity of resources.
The source images are harvested from the internet, many of them from Canadian cities. I have endeavoured to credit and obtain permissions for the source images wherever possible. Any errors or omissions in attribution are inadvertent and are my sole responsibility.