Creative Reactions Ottawa 2018 – call for artists!
2018-01-16 @ 10:00 pm

-

2018-01-28 @ 12:00 am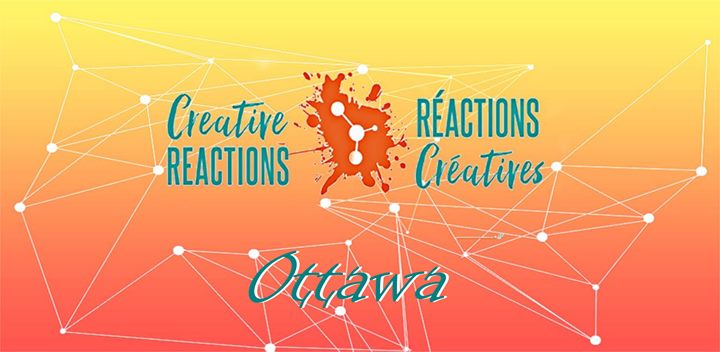 ~ le français suit ~
Creative Reactions is looking for artists in the visual arts domain, spoken word (and others!) for the 2018 edition of the Pint of Science festival and its Creative Reactions event.
We are looking for emerging or established artists from Ottawa/Gatineau region. The selected artists will participate in the festival on May 19th in a café/bar gallery in Ottawa centre (place to be specified soon!).
Artists are invited to enter the world of researchers, to discuss their research topics and produce works revolving around this exchange.
This collaboration between artists and researchers is crystallizes in a cultural event whose main and central element is the vernissage of the artistic pieces, presenting the intertwining of these two universes so close and so different at the same time.
To apply or for more information, drop an email to ottawa.creativereactions@gmail.com.
*** deadline extended to January 28th***
————————–
Réactions Créatives est à la recherche d'artistes du domaine des arts visuels, des poètes (et autres!) pour sa première Édition 2018 du Festival Pinte de Science et ses Réactions Créatives dans la région.
Nous sommes à la recherche d'artistes, émergents ou établis, da région Ottawa/Gatineau. Les artistes sélectionnés prendront part au festival le 19 mai prochain, dans un établissement ( qui sera spécifié bientôt).
Les artistes sont invités à pénétrer l'univers des chercheurs, à dialoguer sur leurs sujets de recherche et produire des oeuvres gravitant autour de cet échange.
Cette collaboration entre artistes et chercheurs se concrétise notamment par un évènement culturel dont l'élément principal et central est le vernissage des oeuvres, issues du jumelage de ces 2 univers si proches et différents en même temps.
Pour soumettre une candidature ou pour plus de renseignements, envoyer un courriel à ottawa.creativereactions@gmail.com
*** date limite de soumission 28 janvier ***