Art Exhibit by Nakisa Fouladi & Katia Pershin
2017-11-26 @ 6:30 pm

-

10:30 pm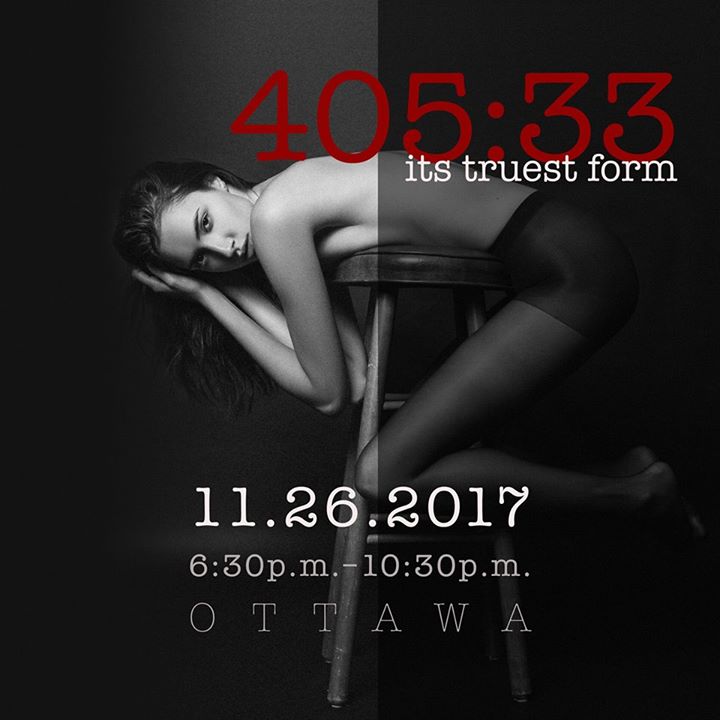 You're invited to Art Exhibit opening:
405:33, its truest form
a series of photographic images by Katia Pershin
overpainted by model-artist, Nakisa Fouladi
Vernissage
General Assembly Gallery, 5A Fairmont Ave, Ottawa
November 26
6.30pm to 10.30pm
Free Admission / Cash Bar
//
Through their mixed media exhibit, "405:33 its truest form", professional portrait photographer Katia Pershin and model-artist Nakisa Fouladi convey the reality behind the curated perfection portrayed in social media.
Layered over the seemingly perfect portrait of a model, the brushstrokes paint a raw introspective into the subject's life, revealing her truest form.
//
About the Artists
Katia Pershin is a Boudoir & Nude Art, and Fashion photographer working in her own studio in Ottawa, Canada and Internationally. She has covered runway shows, shot for designers and campaigns, and has been published in numerous fashion magazines including Papercut Magazine, Vigore Magazine, Element Magazine and Press The Fashion. With a background in music and mental health counselling, this self-taught photographer fuses fine art and penetrating emotion into her work. Her fashion images have been described as powerful, bold, provocative, often portraying female strength and taking delight in strangeness.
Nakisa Fouladi is a model whose career has spanned internationally. She has worked in front of the camera for a range of clients including NRML, West 49, ALDO, Monique Lhuillier, The Row, Max Mara and many more. She has been seen in local magazines online and in print such as Faces, Papercut, Elegant, and several local newspapers. She has been featured Internationally in Hey Monday (Hong Kong), Look Magazine (UK) and Vogue (America). Her image has appeared in several campaigns throughout Canada and worldwide. Behind the camera, Nakisa is a self-taught artist whose work aims to strip back the layers of artifice to reveal her authentic self in her most vulnerable form.