À La Mode Exhibition
2019-12-02 @ 9:00 am

-

2019-12-06 @ 10:00 pm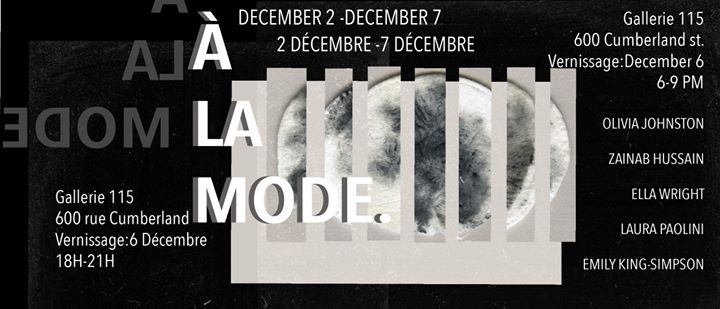 Emerging local artists are being exhibited in a new exhibition entitled À La Mode at Gallery 115 from December 2 – December 6th, 2019 with a vernissage on December 6th from 6:30 p.m. – 10:00 p.m. The exhibition explores how various social spaces can impact femininity; each work relates to the artists personal experience.
À La Mode presents works that converse with the experiences of femininity through different perspectives and includes works by Ella Wright, Emily King-Simpson, Laura Paolini, Olivia Johnston, and Zainab Hussain. Here, the historically gendered expectations that are socially imposed on women are challenged and resisted through each artist's expression of their lived experience. The works included examine how each experience of oppression has moulded the way they experience and express femininity, and dialogue together to confront problematic social structures. In English our title presents as a false friend which means "with a side of ice cream," and in French is "of the current fashion." The way in which one has come to mean the other mirrors the variety of metaphors used by the artists to explore the subject of their own womanhood.
This exhibition is curated by students from the University of Ottawa's Curation for Contemporary Art course: Taylor Boileau Davidson, Laurena Fineus, Joanna King, Ashley MacRae and Gabrielle Madore.
Admission is free. Gallery 115 is located at 600 Cumberland St and is open Mon-Fri 9 a.m. – 4 p.m.
—
Plusieurs artistes de la région participent à À La Mode, une nouvelle exposition à la Galerie 115 du 2 décembre au 6 décembre 2019 avec un vernissage le 6 décembre à partir de 18h30. – 22h00.
À La Mode, présente des œuvres discutant activement des expériences multiples de la féminité, tel qu'illustré par les œuvres de Ella Wright, Emily King-Simpson, Laura Paolini, Olivia Johnston et Zainab Hussain. Les attentes sociales et historiques liées à la conception du genre féminin seront défié par les pratiques de chaque artiste. Elles exploreront ce sentiment de détachement pour mieux façonner l'expression de leur féminité. C'est ainsi que intriguée par le dialogue de ses structures sociales problématiques, elles chercheront à avancer une rhétorique personnelle. En français, à la Mode, est définie en tant que synonyme pour 'mode actuelle et d'aujourd'hui', tandis qu'en anglais, à la Mode, est attribué une tout autre définition, démontrant cette dualité de signification même si le mot lui-même reste inchangé . Donc, ceci reflète la variété des points de vue des artistes représentés et leur examination propre de la féminité.
Cette exposition est organisée par les étudiants du cours Curation for Contemporary Art de l'Université d'Ottawa: Taylor Boileau Davidson, Laurena Fineus, Joanna King, Ashley MacRae et Gabrielle Madore.
L'entrée est gratuite. La galerie 115 est située au 600, rue Cumberland et est ouverte du lundi au vendredi de 9 h à 16 h.