35th Annual Holiday Art Sale: An OSA Fundraiser
2019-11-21 @ 5:00 pm

-

8:00 pm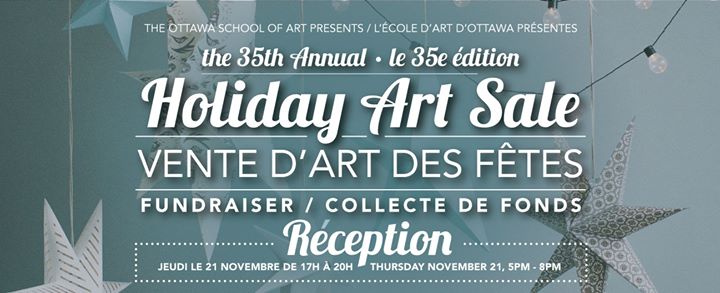 35TH ANNUAL HOLIDAY FUNDRAISING ART SALE
Byward Market campus: November 21 – December 15, 2019
Opening Reception: Thursday November 21, 5 pm to 8 pm
Submission Criteria:
The Holiday Fundraising Art Sale is open to all active members in good standing with the Ottawa School of Art. This year, the OSA will host a Holiday Fundraising Art Sale at the ByWard Campus only.
Submission Dates:
ByWard Market Campus: Friday November 15 and Saturday November 16, 2019 between the hours of 10:00 a.m. and 3:00 pm.
For submssion forms, visit: artottawa.ca/event/holiday-art-sale-35/
For more information, please contact:
ByWard Market Campus: Cathy Brake, 613-241-7471 ext. 27 or boutique@artottawa.ca
35E VENTE D'ART DE BIENFAISANCE DES FÊTES
Campus du marché by : 21 novembre au 15 décembre 2019
Vernissage : Jeudi 21 novembre de 17 h à 20 h
Critères de présentation :
La vente d'art de bienfaisance des fêtes est ouverte à tous les membres actifs et en règle de l'École d'art d'Ottawa. Cette année, l'ÉAO présentera une vente de bienfaisance des fêtes au campus du marché By seulement.
Dates de présentation des oeuvres :
Campus du marché By : vendredi 15 novembre et samedi 16 novembre 2019, entre 10 h et 15 h.
Critères de présentation and Formulaire de présentation
Pour plus d'information, contactez :
Campus du centre-ville : Cathy Brake, 613-241-7471 poste 27 ou à l'adresse boutique@artottawa.ca